Review - The Birds and the Bees
If the title The Birds and the Bees doesn't give you a clue, the tag line "love, lust, beekeeping and the artificial insemination of turkeys" foreshadows a very raunchy and comic production. It makes sense then, to my mind, that the chosen audio describer's energy and personality be able to keep up.
Annika Verveken, one of the describers for Vocaleye Descriptive Arts Society, did not disappoint.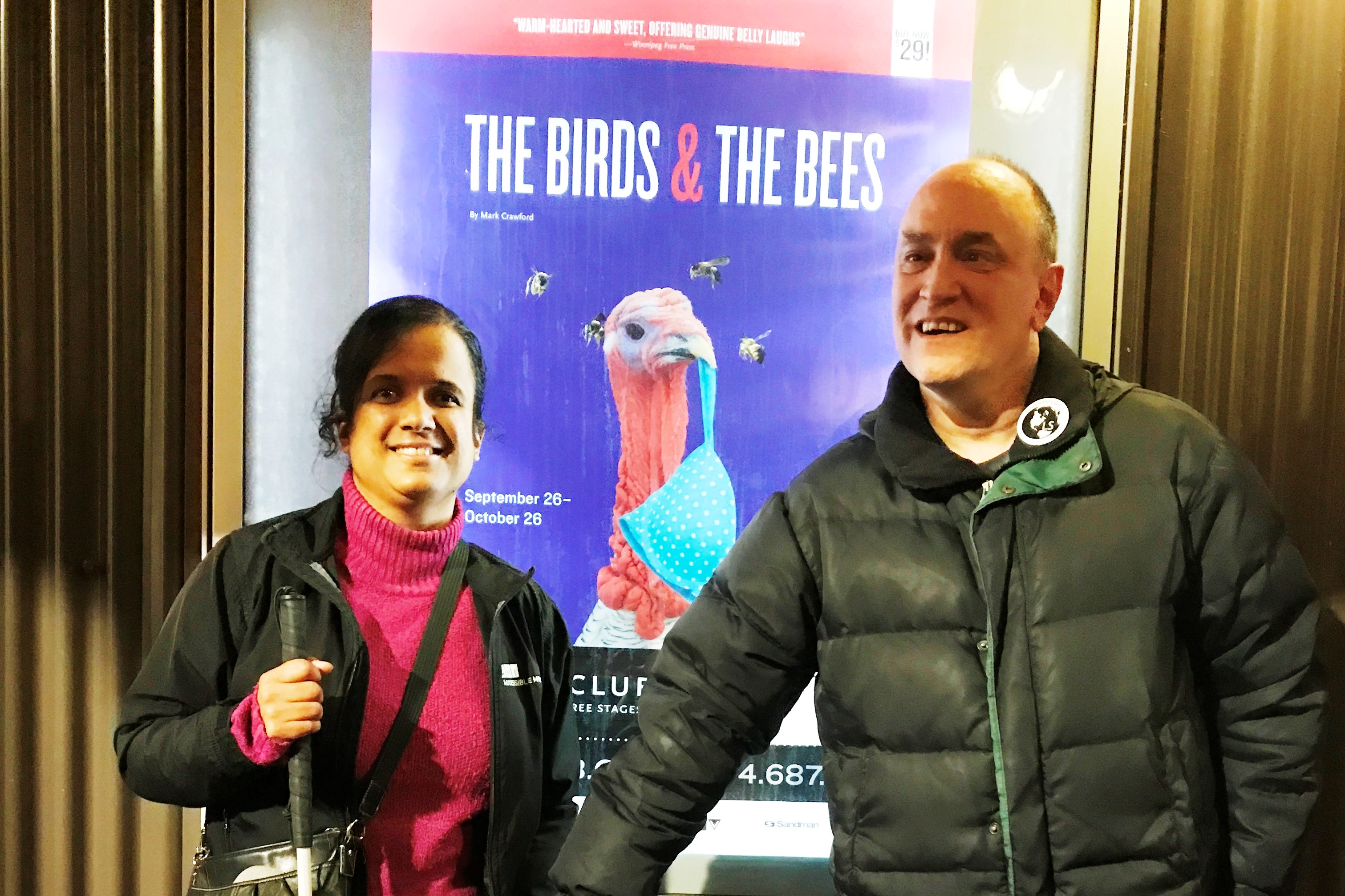 My boyfriend and I attended a described performance of The Birds and the Bees at the Arts Club Granville Island on October 15, 2019. Starting with her description of the characters and the set during the pre-show notes, Annika established some lively dynamics. The leading men – the grey-haired gent in farmer's plaid versus the buff cyclist forever on a juice cleanse – and the leading ladies – the hustle-bustle mother nosing into her daughters' lives and one of the said daughters come home to stay for a while in her bedroom still decorated with Britney Spears posters and stuffed animals – immediately piqued my interest. After all, I had just 'survived' a week's visit from my mom – I could only imagine the butting of heads that would occur on stage.
Then there was the way Annika drew us, audience members with sight loss, into the comedy. As much as comedy is about verbal sparring and one-line zingers, it's about the visuals – the pump no one can get to cooperate to blow up an air bed, the bedraggled grandpa and granny underwear, the exaggerated bouncing of a man in desperate need of a urinal. The hilarity spilled out like items from a clown car and Annika didn't miss a beat.
She didn't miss a beat describing the hanky-panky, either. We – at least I – enjoyed the glimpses of Ben's bare, buff body, loved the silky boxers Gail presented to Earl and enjoyed the post-coital tableaus.
And, once Annika had described it, I just had to get my photo taken beside the play poster featuring a turkey in a polka-dotted bra.
Live audio description, ladies and gentlemen, is much more than the clinical definition of "making theatre accessible to the blind."