Testimonials
Creative Writing
See praise for my published and yet to be published flash fiction on the Writing Feedback Page.
On-Air Presenter
Kristy's energy, focus and her personal sparkle make her a pleasure to work with in front of the cameras at AMI-tv. She has discovered, developed and delivered a number of outstanding stories for our national TV network and continues to be an invaluable member of our AMI-tv team.
- John Harris, Producer at Accessible Media
April 2013
Kristy is a hard-working, diligent, and energetic colleague. She strives for excellence and is always pushing herself to be better. She's motivated, intelligent, and willing to learn.
- Amit Tandon, Videographer at Accessible Media
April 2013
ESL Instructor - Colleagues
Kristy is a dedicated and creative instructor of ESL, and brings a wealth of experience and knowledge to class with her every day.
- Marlow Sturgeon, Business Communications Instructor, St. George International College
April 2013
Kristy is one of the most inspiring people I know. She is a true professional who has a commitment to learning, teaching and reporting. She is always willing to go outside of her comfort zone and try new challenges in her career.
- Shelley-Anne Vidal, Career Facilitator and fellow classmate during the Provincial Instructor Diploma Program at Vancouver Community College
February 2013
The moment I met Kristy I was impressed with her energy, enthusiasm and the dedication she's shown towards her interests and profession. Not only is Kristy committed to creating a great learning experience for her students, she has also devoted much of her own time towards being a lifelong learner. Kristy is an inspiration of how one can really embrace life through several different facets and I always look forward to hearing what she's up to!
- Lissa Ward, Career Facilitator, Neil Squire Society
May 2012
Kristy is a gifted, enthusiastic and caring young woman. People love her friendly approach and appreciate her competence and dedication to her work. She will go far in life!
- Anna Foschi, Volunteer Coordinator, VLMMFSSS
October 2011
"Kristy is an excellent ESL Instructor. She genuinely cares about her students and develops lessons specifically for their needs and interests. She is reliable, flexible and has a positive attitude. Her students have fun while they are learning!"
- Darlene Foster, Surrey BC
November 2010
ESL Instructor/Tutor - Students, Parents and Teachers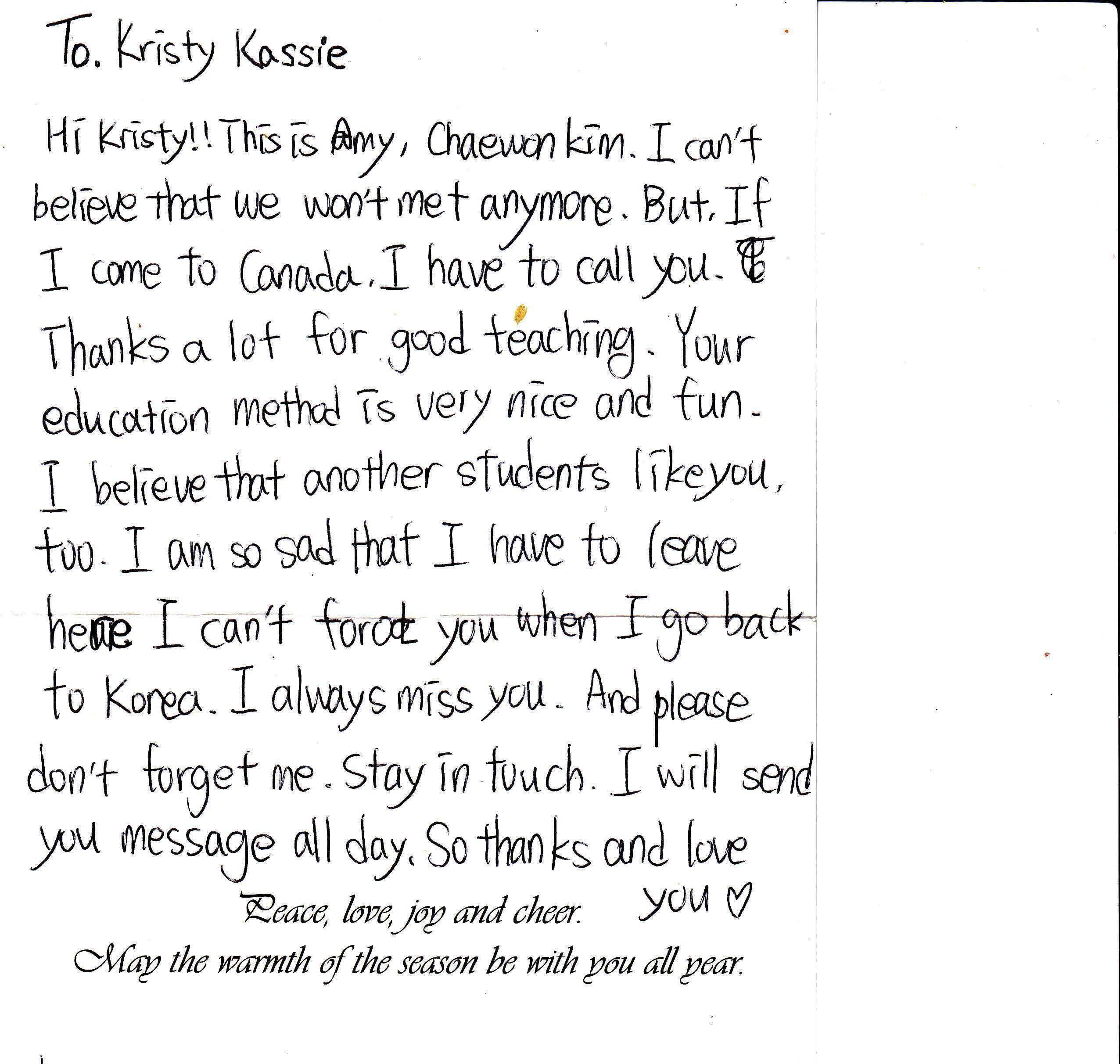 - Chae Won Kim, February 2017
Kristy is a friendly and helpful teacher, it is a pleasure to learn from her. She helps students understand better and she answers questions thoroughly. Because of her help, my writing has greatly improved and I passed my Upper Advanced English this term. I would like to express my sincere appreciation to Kristy for all her help and advice. Good luck to all other students, we enjoy our great teacher Kristy!
- Irene Y., Vancouver Community College Student
July 2014
Kristy is the best and funnest tutor ever!
- Captain Rex a.k.a Liam (Student)
June 2012
"Your classes are awesome! I am going to miss you Kristy."
- Karen P., Student
February 2012
"Kristy i think i can say for all of us when i say you have a place in our hearts now!"
- Felipe O., Student
February 2012
"Kristy, you're very special to all of us! Thanks for everything!"
- Daniela R., Chaperone for Brazillian Youth Group
February 2012
" It was my pleasure to be your student! Thanks Kristy! Hope to be your student again."
- Joanne, ELSA 4 Student at Burnaby English Language Centre
July 2011
"Alisha a beaucoup mieux réussi à son test Unité B. Merci. J'espère que tu vas pouvoir continuer à travailler avec elle jusqu'au mois de juin. Je vais en informer sa mère."
- Isabelle Côt
April 2011
"Thank you Kristy! You help me a lot!"
- B. Lara
April 2011
"Kristy was able to help me with my French by making it understandable, not awkward & made a huge difference by helping me pass and attain a better grade."
- Cole C. New Westminster
January 2011
"As Parents, Kristy's French tutoring provided a support to our son that we were unable to provide. It gave us peace of mind that it eased our son's stress, helped him prepare for exams and we saw good results in his grades and confidence."
- Keith and Chris C., New Westminster
January 2011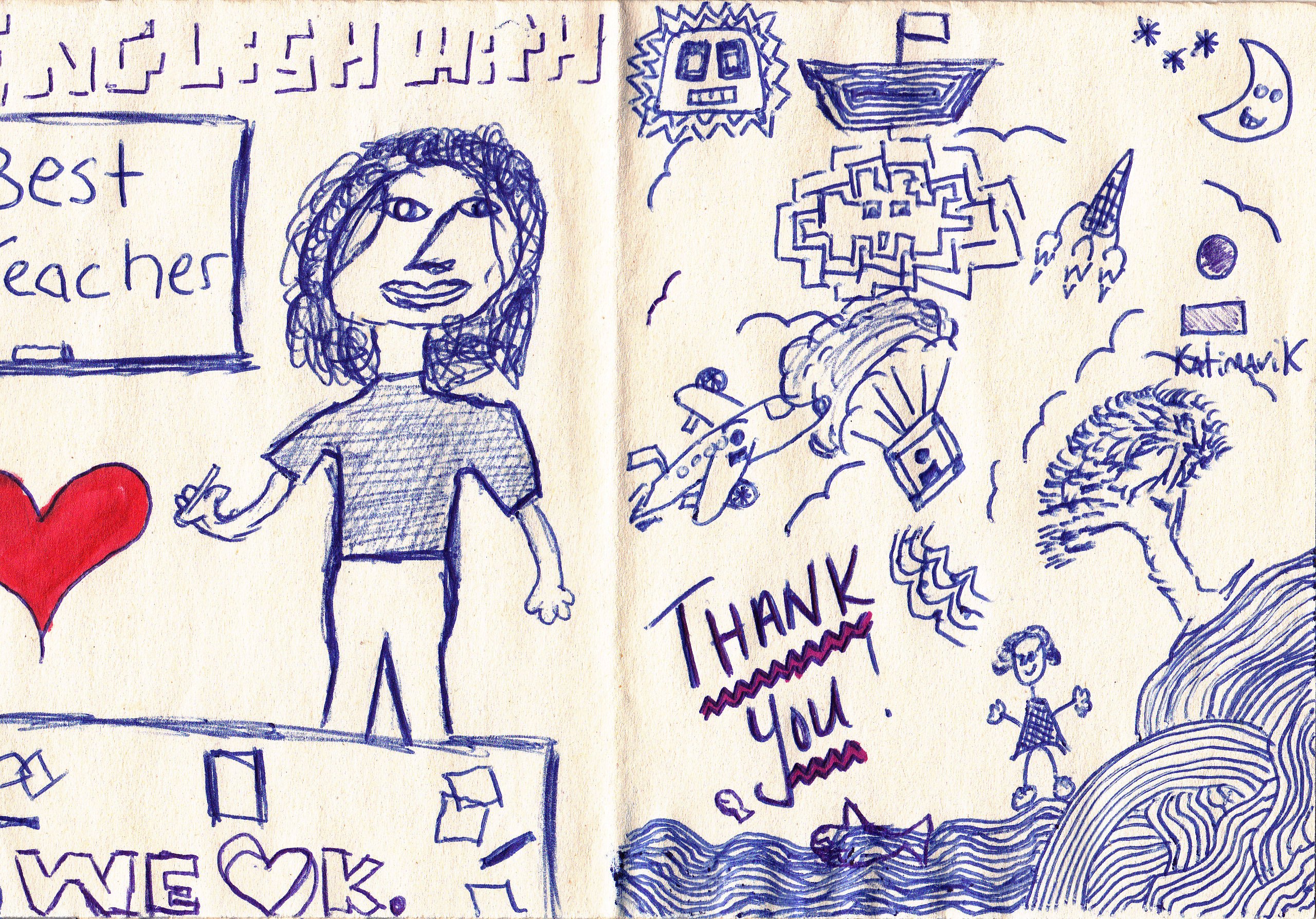 - Francophone Students, Katimavik
January 2010
"I just wanted to let you know that I received my final exam mark today, 83%. Thanks for all your help and patience. I could not have done it without you."
- Brian M., Penticton BC
December 2009