The Robber Bridegroom - Vancouver Fringe Festival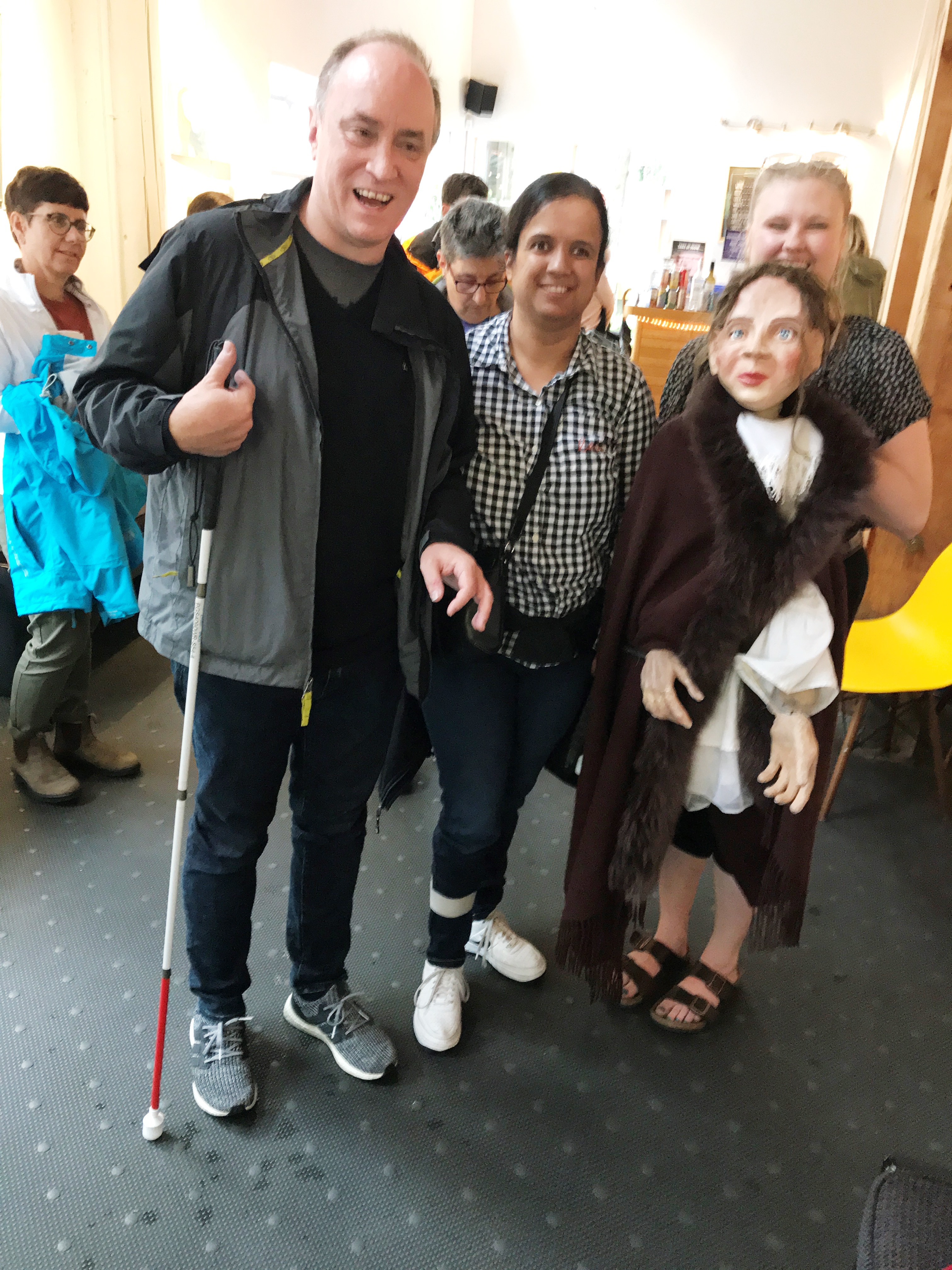 The voice of our Vocaleye describer, Annika, comes through my earpiece. She is telling us about the characters and costumes in The Robber Bridegroom, a play at the Vancouver Fringe Festival.

"Many of the actors," Annika explains, "play the roles of puppets in addition to their human roles in this performance. The puppets are strapped to the front of the actors who manipulate the inanimate arms and legs. The puppets do not speak, except for vague vocalizations."
The play begins and my English teacher brain translates the costumes Annika has mentioned into symbols and foreshadowing. The bride and the bird puppet are two of the only characters who are vibrantly dressed. The ominously titled 'robber bridegroom' wears shades of black and grey. In the opening scene, the bride and the groom are in sharp contrast.

Black versus white.
Evil versus good.
I'm rooting for the bride when she faints. Transition to a dream sequence and enter the puppets.
For the next forty minutes – the majority of the play in other words – a macabre story unfolds. There are moans, screams, the rattle of chains, eerie piano music and a very bloodcurdling cry. Periodically, a trio of voices chants the dire refrain, "'Turn back, turn back, young maiden fair, Linger not in this murderers' lair!"
Now, it doesn't take a rocket scientist, or an English teacher, to conclude that the bridegroom is up to no good and that the bride should run as far as she can from him.
But the essence of this play is in its mix of puppetry and live theatre.
We are not here to hear an old tale retold. We are here to witness a new interpretation of a classic.
How can we accomplish this when we, audience members with sight loss, can't see the puppets' gestures and expressions?
Well, you might say, perhaps this isn't a play for such patrons. There are 101 performances in the Vancouver Fringe Festival. Go find yourself one that has more dialogue, one where the plot is less complicated.
Ten seasons ago, Vocaleye Descriptive Arts decided to challenge that attitude.
I can enjoy The Robber Bridegroom because Annika's voice in my ear verbalizes each pointed finger, each warning nod, and, of course, the axe chopping into the lifeless body of a doomed young girl.
This is the first described performance in Vocaleye's tenth season. I've marked at least ten more on my calendar, including another described performance at the Vancouver Fringe Festival. It will give me something fun to look forward to as the rainswept fall and winter months descend. Described art exhibits and walks, broadway favourites like Sound of Music, Joseph and the Amazing Technicolor Dreamcoat and Kinky Boots and smaller productions that invite mystery, comedy and romance into otherwise dreary months.
So many wonderful opportunities to enjoy accessible arts performances.