Rapture, Rhythm and the Tree of Life - Described Art Tour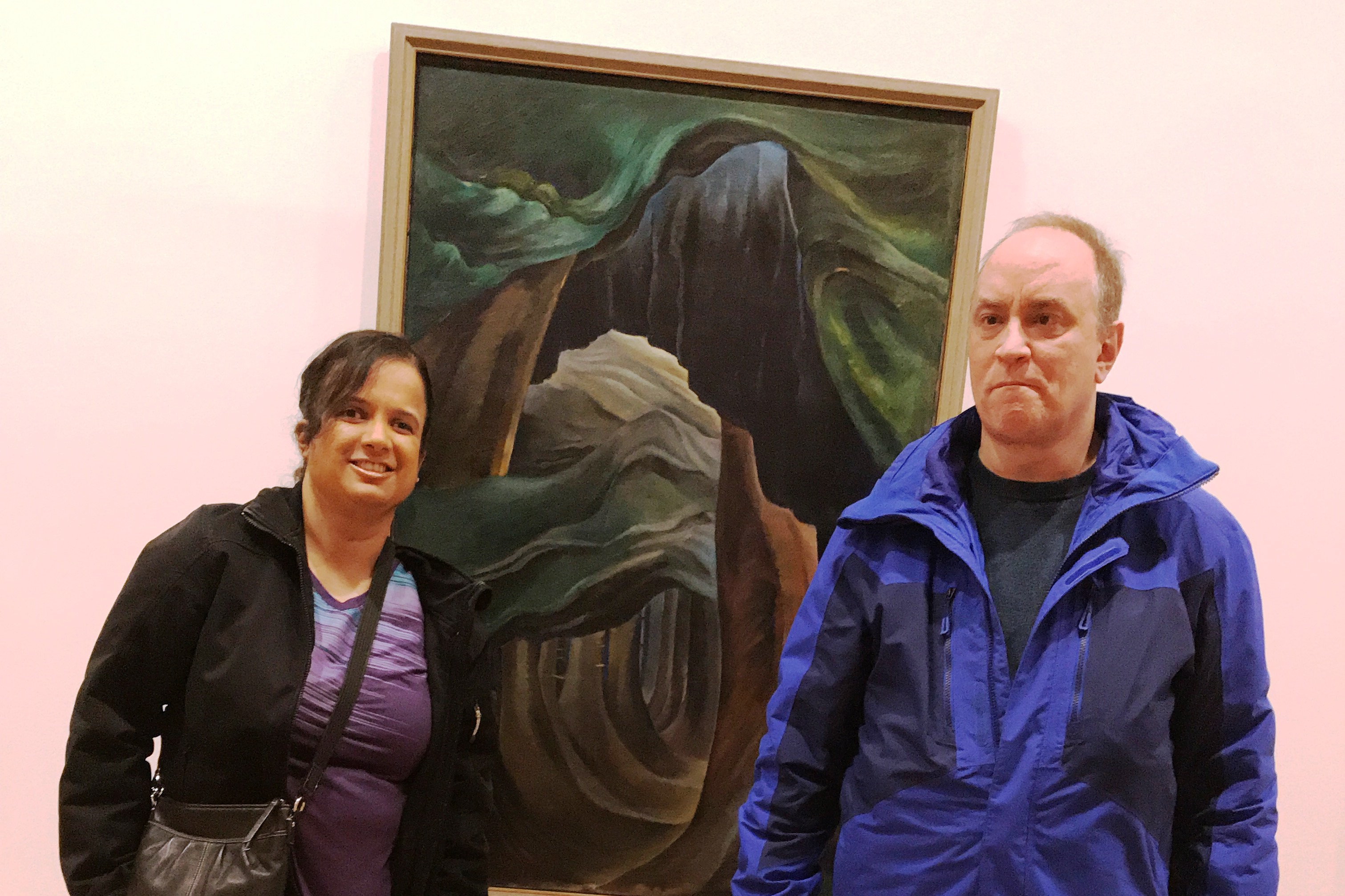 The framed paintings gracing the walls of the rectangular room in which I stand have too many shades of green for my limited colour vision to recognize. Still, the enormity and the grandeur of Emily Carr's famous forest scenes fascinate me.

I am Red Riding Hood, setting off to visit Grandmother.

During one of my first described art tours at the Vancouver Art Gallery, Marie-France, one of the art educators, had likened the pervading textures in Carr's work to velvet or satin.
That analogy has stuck with me.
It is now January 25, 2020, more than a year since the Vancouver Art Gallery, in partnership with VocalEye Descriptive Arts, embarked on an initiative to make art accessible to those with vision loss.

Coincidentally, it is Marie-France conducting this tour, entitled 'Rapture, Rhythm and the Tree of Life'.

I've come to admire her innovative methods of making priceless art tactile. For an exhibit of GIACOMETTI sculptures last September, she passed around replicas fashioned from pipe cleaners and modelling clay. At the start of today's tour, before she described two of the most intricately woven baskets I've ever seen, she placed twisting curls of yellow cedar in our hands so that we could experience the suppleness and feel of the wood so prized by Canada's indigenous people.

We are a small group today – my boyfriend, Shawn, and me, plus another guest with vision loss.

I study the vertically-hung landscape directly ahead of me, feeling an almost visceral urge to be a part of it. I recall the rough cedar between my fingers minutes before, can still smell its fragrance. Had Canada's first peoples explored the cedar as I had, marveling at each whorl and nick? Do their descendants look upon an Emily Carr work today and feel my enchantment or do they instead hear the keening dirges of ancestors erased by colonization?

Marie-France is describing the artwork, drawing the scene on my back with her fingers. This method of tactile representation has been used on me before and my reactions have been mixed.

"The larger objects are closer," she explains, "while the mountains – " She demonstrates with quick, angled motions – "are far off in the distance."
Perspective, a highly visual concept, adapted for art gallery patrons with vision loss.

Now that's cool.
I keep my eyes on the painting, listen to her words and match her motions with what I see.
"It was like a fog parting," I tell her afterwards. "As I was listening to you, I looked at the area of the painting you were drawing on my back. And the outline of that tall tree in the corner, the angles of the mountains – I recognized them for what they were. Before your description, that path there – " I gesture to a lighter curve in the scene, "looked like the outline of a head. And I thought, wait, what's a head doing in the middle of a forest?"

Shawn and I will miss the next described art tour as we will be out of town.

The Vancouver Art Gallery has now assumed full coordination of the tours, scheduled for the last Saturday of each month. Patrons with sight loss are encouraged to register for the tours by contacting the gallery. Sighted guides can be requested and they will meet patrons at Burrard Skytrain Station.

See you in March!