VocalEye Virtual Presentations - Macbeth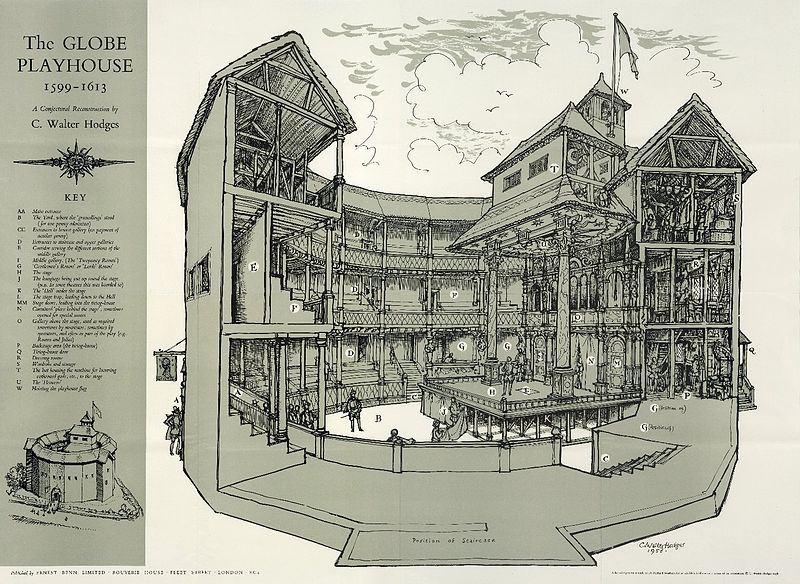 I am in London's Globe Theatre, standing shoulder to shoulder with the groundlings.
Hard-packed earth is underfoot and rings of stadium-style seating rise around me. I stare in wonder at the Heavens, er, that is the ceiling, above the stage that is painted sky blue with white clouds. The live band and the actors are indeed capable of projecting to the audience of hundreds despite the lack of microphones and speakers. My view shifts, still seemingly heavenward, to the ornate gold crowns atop the oaken pillars standing sentry on either side of a stage that struts boldly into the masses.
Oh, but I long for an actor to swagger up and personally address me.
Ha, with my luck, I'm more likely to be spattered with blood.
It is June 17 and the production is Shakespeare's Macbeth. What better theatre to be in than the Globe, right? After all, the original Globe Theatre was Shakespeare's stomping ground.
But it is 2020, not 1606.
Even if I wanted to jet off to London, there are these pesky Covid 19 travel restrictions.
Fewer faces, bigger spaces, Vancouver's Dr. Bonnie Henry reminds us daily.
So my boyfriend Shawn and I are on my living room couch with an IPad on our laps. It's Watch Party Wednesday, brought to us by VocalEye Descriptive Arts Society and their colleagues in England. I think wistfully of last year's described performance of Shakespeare in Love at the Bard on the Beach Festival. In addition to live description during the show, patrons with sight loss had been treated to a post-show touch tour.
Someday soon, I think. As fun as these virtual gatherings are, this cannot be our new normal.
Anyway, Shawn and I are both legally blind. We've been attending pretty much every described theatre performance and community event since 2018. For Shawn, who has only light perception, live description helps him keep track of the action on stage. I have a bit more usable vision but love how live description fills in the details my tunnel vision misses.
The different hues of blue worn by the performers in Macbeth, for example. And the gore of bloody and dismembered corpses, of course. After all, what is Macbeth without the slashing and splashing of murderous scarlet?
What enthralls me most is the regal splendor of the Globe Theatre as described to us in the pre-show notes. It is this level of detail that transforms me from a listener of Macbeth to an audience member. To truly appreciate Shakespeare one must remove oneself from the cushioned seats and heavy velvet curtains of traditional theatres. Live description affords me this opportunity so that I could present a scene such as I did at the start of this review.
During next week's Watch Party Wednesday, we're off to London's National Theatre, virtually of course, for a production of Small Island, based on the novel by Andrea Levy.