Preview: Modern Biology at the Indian Summer Festival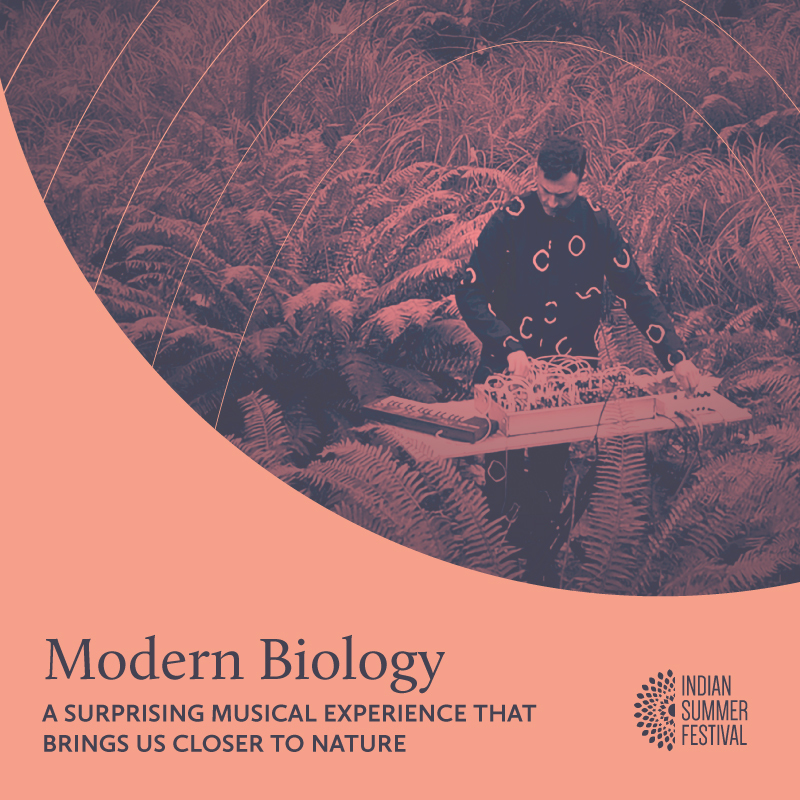 What if you could sit on a grassy knoll beside the Pacific Ocean and listen to a soundscape inspired by nature itself?
It's so perfectly Vancouver.
And so perfectly accessible to people who are blind or partially-sighted.
Modern Biology is the new project of veteran musician Tarun Nayar. Formally trained in Indian Classical music and educated as a biologist, Modern Biology sees him turn a new leaf by bringing his passions together in an ambient project that is organismic, uplifting, and deeply contextual. He uses modular synthesis, home-built synthesizers, and other analog equipment to improvise with the natural vibrations of a certain place and time – via plant bioelectricity, latent electromagnetic radiation, and even the earth's resonant hum.
On July 10, 2022, at the Indian Summer Festival (ISF) Tarun Nayar and sitar virtuoso Sharanjeet Singh Mand present this transcendental music experience that is part concert, part meditation. Audience members are set up with high-quality wireless headphones so that they can remain fully immersed in the ambient world Tarun creates, even if they choose to take a short walk down to the edge of the water.
The event will begin (and end) at Performance Works, with the audience directed to the grassy knoll at Ron Basford Park. Bring a blanket or lawn chair for outdoor seating.
If you require sighted guide assistance to the venue from the bus stop at Granville Island, or if you would prefer a complimentary ticket to bring your own sighted guide, please contact Anya Rawla at info@indiansummerfest.ca. Early access to the venue, reserved seating and digital programs are also available upon request.
Event Information
Modern Biology
Date: Sunday, July 10, 2022
Time: 4:00–5:30 p.m
Location: Performance Works, Granville Island
Address: 1218 Cartwright Street, Vancouver, BC