Overdale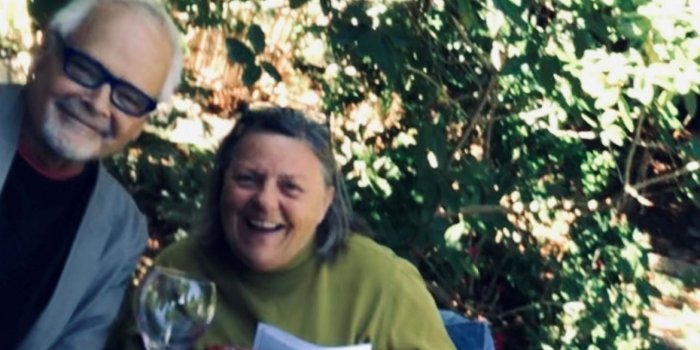 VocalEye Descriptive Arts launched its 11th season of described theatre for people with vision loss on October 1, 2020. Since Covid 19 restrictions brought a halt to live theatre in March, VocalEye has pivoted to virtual watch parties and gatherings. As of October 14, 2020, VocalEye has offered 19 virtual presentations, ranging from described performances from London's National Theatre to a locally described version of Vancouver's virtual Pride Parade.

On October 1, 2020, David King and Nicola Cavendish did a reading of their fuzzy romantic comedy, Overdale.
As a writer who leans towards dramatic plotlines and complex characters, I have to admire those who can spin charm and romance from something as mundane as a chance encounter on a BC ferry.
I prefer theatre performances to carry me away to the Badlands of Africa or the plains in Egypt or even the border wall between the United States and Mexico. A whimsical jaunt down "what if" lane had my mind wandering off.
As my mind tends to wander during seemingly interminable trips on BC Ferries, come to think of it.
Overdale had my mind wandering to the technique of playwriting. As I said before, I applaud that Rumplstilskin skill of spinning stage-worthy gold from everyday straw.
Using that way-too-perky and ever-intrusive welcome announcement to inject some humourous tension into a stilted conversation, for example, was a stroke of genius.

I also must commend the artful stage directions that focused the action but didn't disrupt the dialogue.
As someone just starting to experiment with playwriting, stage directions are my albatross.
Overdale may not make it to my list of favourite theatre performances but it was certainly a valuable study in the art of creating theatre.