Review - She, Mami Wada and the Pussy Witch Hunt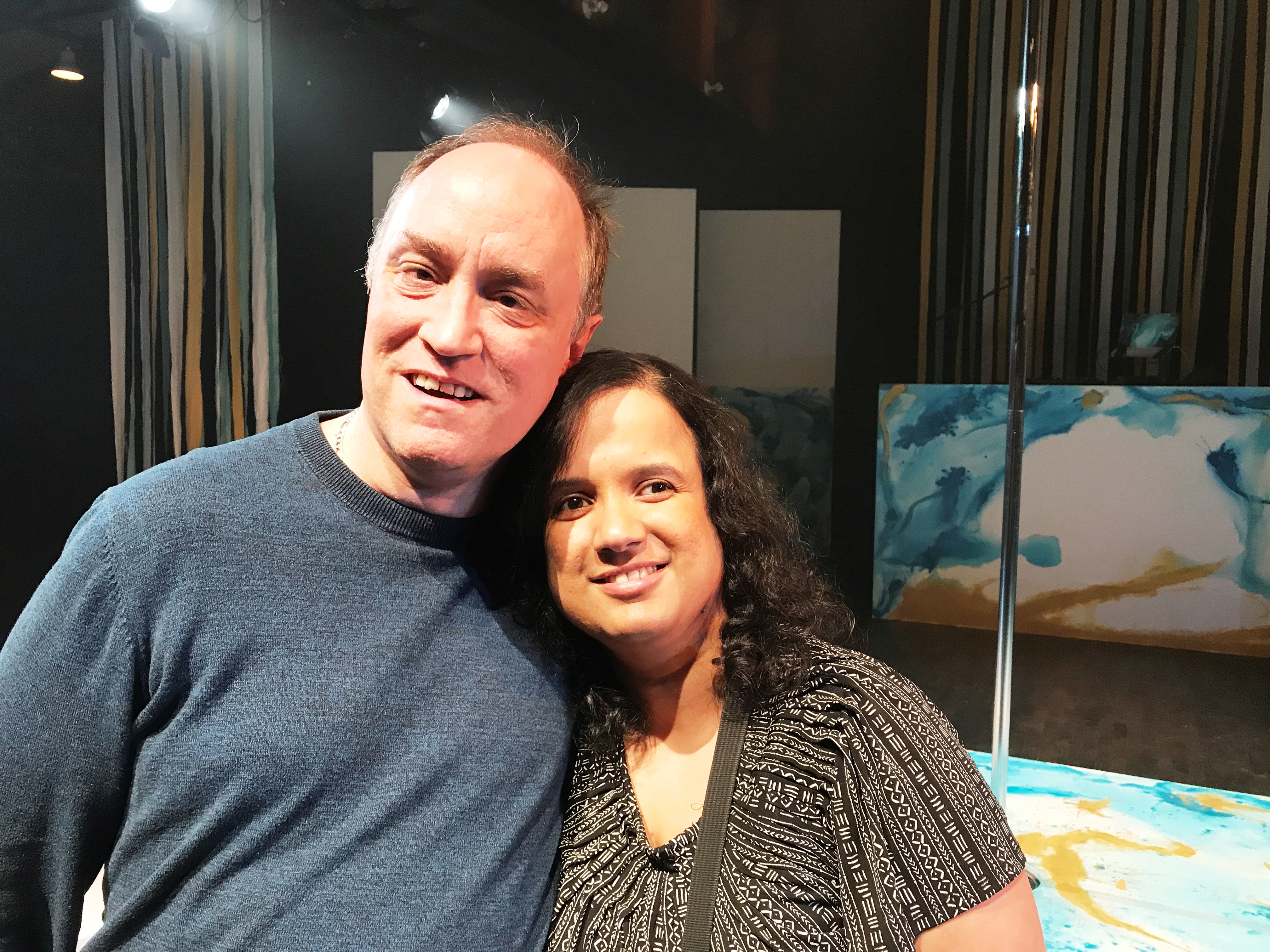 I wish I'd taken a photo of Annika, Access Coordinator for the pUsH International Performing Arts Festival, reading us the pre-show notes on January 29, 2020. Blonde hair perfectly coiffed, jacket fluttering, she plunked down on the floor at our feet.

You're thinking, who is this couple sitting front row centre receiving the royal treatment, right?

It is not because we are patrons with vision loss.
For the record, such blatant hand-holding would drive us nuts.
Yes, my boyfriend Shawn is blind and I am partially-sighted but we are quite capable – and were very willing – to read the information on the pUsH website.
"We couldn't find the notes," I told Annika.
"That's my bad," she replied with an abashed smile. "The link was broken and I just fixed it."
So, here she was on the theatre floor, looking as comfortable as an executive in a plush office chair, ensuring that we had the information necessary to enjoy the show.
"Inclusion instead of accessibility," Annika had explained at the Access Training for festival volunteers. "Build things in at the beginning so that patrons aren't left feeling ignored, overlooked or like a third wheel."
And, obviously, check in with patrons because even the best laid plans have technical glitches.
She, Mami Wada and the Pussy Witch Hunt was the first non-described theatre production I'd attended in years and a first for Shawn.
Three shows were being described at the 2020 pUsH Festival and Shawn and I had tickets to all of them.
On a whim, we'd browsed the list of non-described shows tagged as 'low-vision friendly' and She, Mami Wada and the Pussy Witch Hunt had appealed to me. Not necessarily for its political and feminist undertones but rather because it was a story set in Jamaica.
I was born in Trinidad and Tobago and had never seen any production produced or performed by Caribbean actors. I was looking forward to the DJ spinning tracks and to hearing the colloquialisms of my youth.
Thanks to Annika, Shawn and I now understood the set to be divided into three panels, with a DJ booth and stripper pole at the centre. Flashbacks would appear on the left, present day on the right.
"You know that doll I have from Trinidad?" I whispered to Shawn as two statuesque women took the stage. "The women are wearing similar turbans and billowing skirts."
Shawn snickered. He enjoys my literary descriptions.
I am, and always will be, an English instructor at heart.
One of the women moved into the audience seated in ascending rows behind us. The other strode energetically from one side of the stage to the other, so close to us that we felt rushes of air with her every pass.
I got my dose of thumping bass and in-your-face dancehall lyrics.
I adored every sweet and sassy bit of dialect.
"All that vocabulary you taught me came in useful," Shawn said afterward. "Obeah, nose-hole, batty. And did she say black pudding or did she hear you and add that to her list?"
He was referring to a part of the play when the actor, in one of her many personae, had started listing things associated with the word 'black'.
Black plague, black hole, black Friday…
Carried away by her Jamaican lilt, I'd spoken aloud. "Black pudding."
"She looked right at me," I said to Shawn in response to his question. "And added it to her list."
To the readers who now want to know what Caribbean black pudding is, I direct you to Google.
"How many new words for pussy did you learn?" I teased Shawn.
It was during the post-show talk with the cast that the bigger picture behind the production took shape in my mind. In the play, women and men are punished and ostracized for their homosexuality – by their peers, by the country in which they live, seemingly even by the mythological guardian of the land. Juxtaposed against this tragedy was a modern-day challenge to traditional decrees and deep-rooted prejudice.
Are they less Jamaican than others simply by virtue of their sexual orientation?
"It's not unlike what I tell you often," I said to Shawn on our train ride home. "I love so many parts of my Trinidadian culture – the food, the music, the warmth of the people – but I also feel alienated because my values and beliefs have taken what feels like a whole different direction to how I was brought up."
And I return to that idea of inclusion versus accessibility.
Here's a novel concept:
Build communities, infrastructure, education, recreation for everyone – leave no person ignored, overlooked or feeling like a third wheel.