Review - Unscripted: Yellow Objects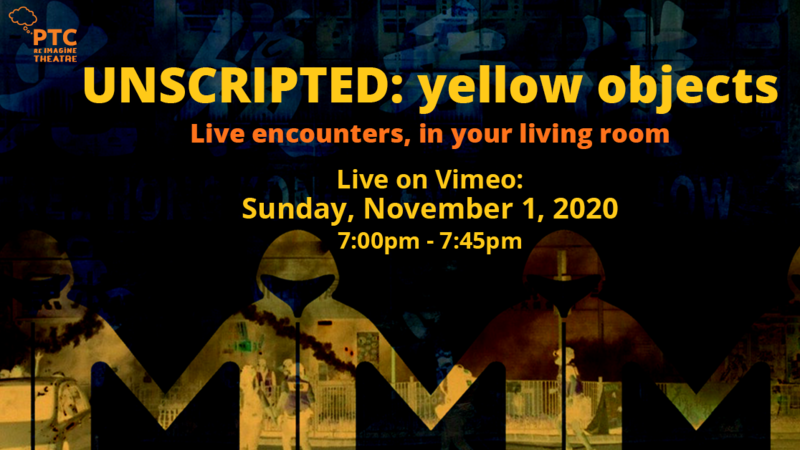 It is rare that a person with vision loss can drop into a highly-visual theatre experience with ease. Even more rare for someone who is blind or partially-sighted is an invitation to participate in the production process with the aim of making the performance accessible from the ground up.
When Davey Calderon, Dramaturg at the Playwrights Theatre Centre (PTC), invited me to act as Low Vision Consultant for Unscripted: Yellow Objects, I was both excited and skeptical.
According to their website, PTC's Unscripted series brings playwrights, audiences, and the imagination together. I found it very validating that people with vision loss would be a part of this collective. All too often, accessibility and people with disabilities are last on anyone's checklist.
That being said, I wondered how it would all work.
Unscripted: Yellow Objects would be presented across Telegram and Vimeo.
Viewers would interact with the live stream presentation through chat functions.
I downloaded the Telegram app for IOS on my IPhone and was disappointed. Although I could see chat content in the app, by virtue of the tunnel vision in my right eye, the app was not usable with Voiceover, Apple's speech output software. People who are blind would not be able to read or send messages through this app. I got a little more response when I tried the Telegram web application with speech software on my desktop PC but it wasn't something I felt comfortable promoting to the low vision community.
No worries, I'd try the chat feature on Vimeo.
This worked flawlessly on my PC. Couldn't access the chat feature on my IPhone but that could have just been my unfamiliarity with Vimeo. No biggie.
On October 31, 2020, shamelessly decked out in a fleece snow leopard onesie for Halloween, I signed into the dress rehersal for Unscripted: Yellow Objects. I loved how the session began with the hosts and guests giving their name and a description of themselves and their clothing. The gravity of the situation and the fear of persecution really hit home when I learned that several of the interviewees were either in disguise or using aliases.
Pplaywright Derek Chan and co-host Davey Calderon brought the voices of Hong Kong democracy activists in Vancouver into conversation with Derek's play-in-development, yellow objects. It is the story of a young woman who meets an old man in an abandoned school, and discovers a history beyond her wildest dreams… or nightmares. The setting is Hong Kong 2050.
I loved the seamless inclusion of audio descriptions: the chairs in an empty classroom stacked to resemble skyscrapers, paper planes drifting over a cityscape. Overlaid with the sounds of Hong Kong protesters, this drew me deeper into the story.
I can't wait to see the final production in 2021.
With the strong effort towards inclusivity that went into the production process, I expect no less when I see Yellow Objects on stage.
If the uncluttered layout and built-in accessibility features on PTC's website are any indicator, this company is a role model for grass-roots inclusion models. Registering for my Unscripted ticket through Side Door went smoothly. The glitch of Side Door not sending out the event link to attendees should not reflect badly on PTC.